30/07/2011 – 28/07/2013
Today we helped Spike get to rainbow bridge three weeks before his 2nd Birthday. He had recently grown a tumour on his chin. We had it operated on once to remove infection, as it just kept bleeding. We then had him under anaesthetic to get an x-ray to see if it could be removed, the vet said it couldn't as it had invaded his bone structure and if she had removed it, there would be no bone there. So he came back home to spend a couple more weeks with us. Today came when we only thought it was right to help him on his journey to go see his brothers. He hadn't been eating hard food for a couple of weeks so his teeth had grown to long for him to eat with his tongue. We thought it would be best for him to spend his 2nd Birthday with his old brothers.
We first called him Spike because he had a perfect black hood and his tail was always sticking up like a spike, so Spike was the perfect name.
We got Spike to go with our other boys Trip & Zed. He got on great with them both, even though they were a little bit bigger than him.
Spike settling in with his new brothers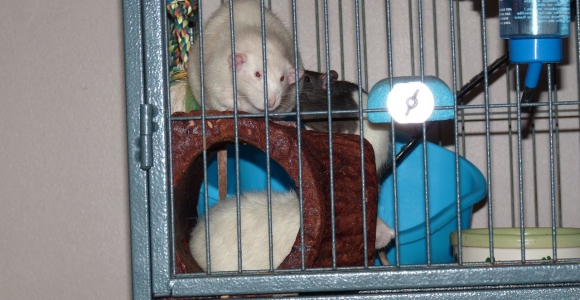 A few weeks after we got Spike we noticed that the two older boys didn't really want to play with him. We then got a rescue boy and called him Whiskers.
Spike and Whiskers meeting for the first time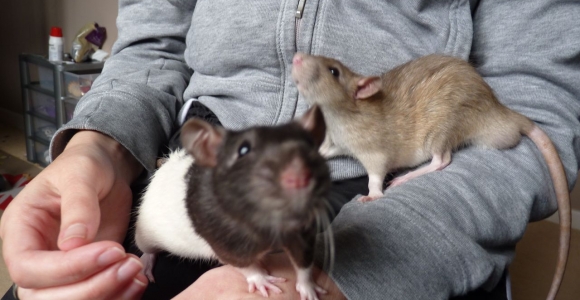 After a few months of being with Whiskers we noticed that Spike was being a bit nasty towards him. He was forcing him to stay in one part of the cage. He also started to bite us, so we had him neutered, as it wouldn't of been fair to keep him on his own.
After he was neutered we kept spike on his own to recover for a few weeks.
Spike recovering in the small cage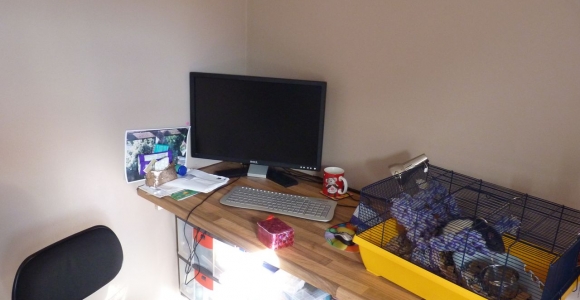 While spike was recovering from his operation Whiskers also got nasty towards the other boys Trip and Zed. So we got him neutered too.
While Whiskers was recovering, we put Spike back with the two older boys. They got on fine and everything was back to normal with them.
Spike free ranging with the older boys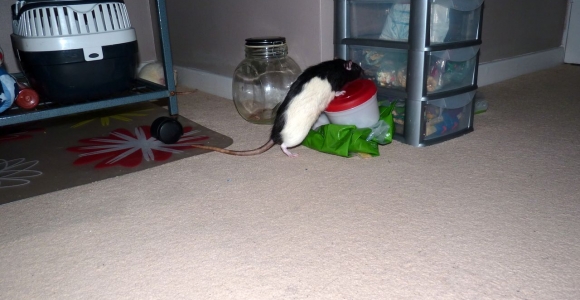 When Whiskers had recovered, we put them altogether again, only to find that they wouldn't go together, as they would still fight.
When it was a rats Birthday Spike would always be there to have some cake, he never liked missing out.
Spike enjoying a snack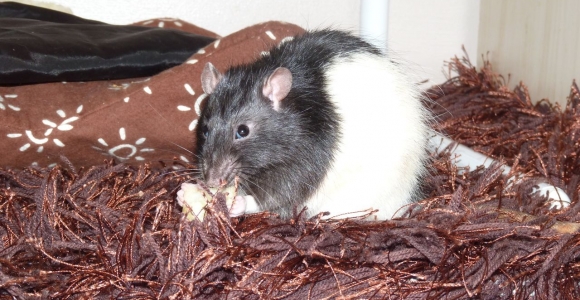 Rustling bags was Spikes biggest fear, he would always hide whenever he heard that noise. He always knew the difference between a normal bag and a yoggie bag though.
We spent two Christmas's with Spike. He always ate his Christmas dinner!
Christmas 2011, Spike enjoying his vegatables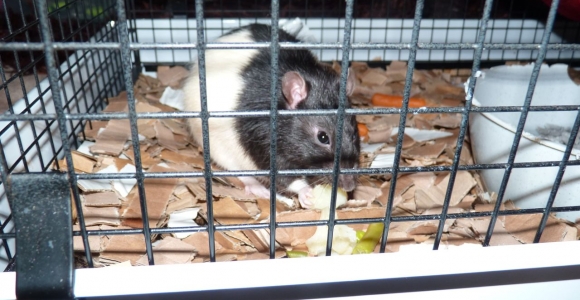 Christmas 2012, Spike letting his brothers rest in the hammock
.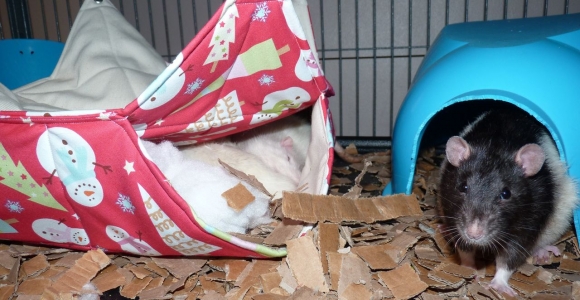 A few months ago, we noticed Spike had a lump on his chin. We took him to the vets, because it had become swollen and it looked as though there was an infection on it. We put Spike back with Whiskers, as Spike couldn't really bite him anymore because of the lump. They both got on ok, it was like they were best friends again
Spike with Whiskers eating – reunited brothers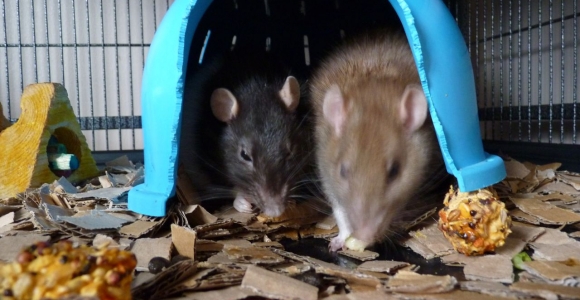 Over the last few months, when we had the boys out, and we were sitting on the floor, Spike would just come and sit on our knees. It was as though he wanted to spend some time with us, as he knew he wouldn't be with us for much longer
We thought it was an the lump was an abcess or something. The vet operated on it and said it was a tumour, he reduced the size of the lump, by getting rid of the infection. The next vet visit was to see if a different vet could remove the lump. He had an xray to see what it had done to his chin. The lump had grew into his chin and if it was removed he wouldn't have any chin there. We kept him with us as he still had lots of life in him.
Spike and Whiskers having a cuddle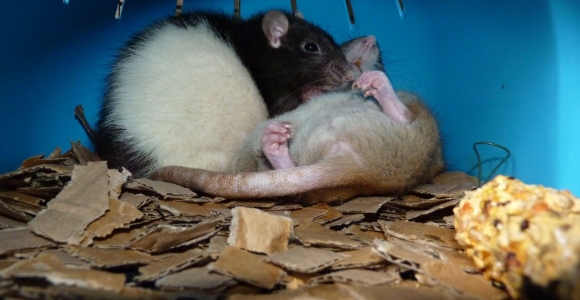 Have fun at Rainbow Bridge Spikey Man. You will be back with your big brothers again, Trip & Zed. I'm sure they have missed you, just like Whiskers is missing you now. You won't have any more lumps to deal with, you will be healthy again. We all love you Spikey and we all miss you lots. Share out the yoggies we put in, tell all the other rats we love and miss them all too.
Our handsome Spike