DoP: 25.10.2011
DoB: 22.02.2011
Brownie 22.02.2011 - 13.05.2013
Today we said goodbye to our Brownie. She was 2 years, 2 months and 3 weeks old.
Recently she had been showing signs of a pituratry tumour. She couldn't use her arms to well. We helped her as much as we could with holding her food whenever we saw her struggling. She slowly got weaker and could no longer eat hard food. So today we helped her on her journey to rainbow bridge.
Brownie originally came to us with her three sisters from Jenna at HKM Stud, to go with one of our older girls (Nibbles) to keep her company. Brownie was a live wire and jumped out of my hands as soon as I picked her up. We went to pick two rats up and ended up bringing four home, Brown being the youngest of them.
Brownie meeting her new sister Nibbles.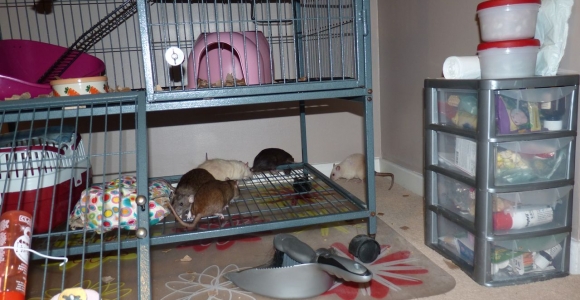 We called her Brownie, as we had already had a Chocolate, Biscuit and Crumbs. Plus she was a lovely agouti brown, so Brownie was a good name for her.
Brown always wanted to be out of the cage exploring or just hiding. Whenever the cage was open, she would be on the floor as soon as she heard the door rattle.
Brownie bolting to get out of the cage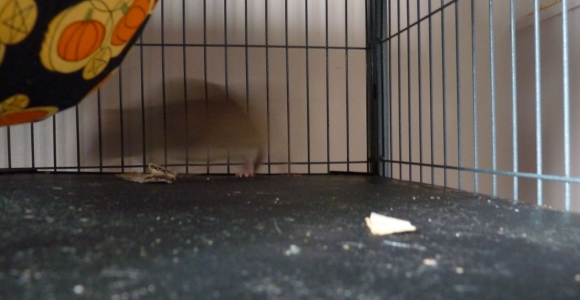 Brownie loved all kinds of foods, i don't think she had a favourite.
Christmas 2011 with her sister Smoothie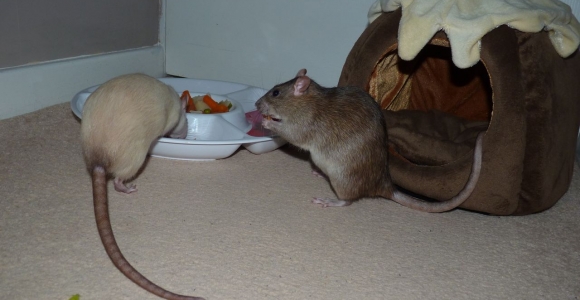 Halloween 2012, Brown eating some Halloween food (baby food)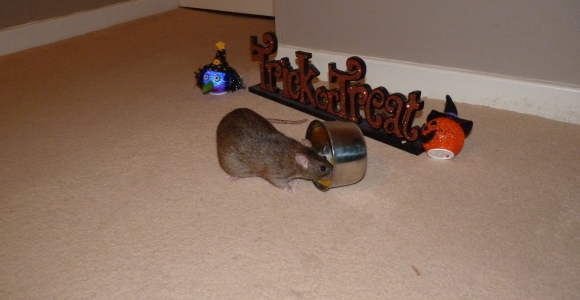 When Brown was around 18 months old she had a lump by her back leg. We had it removed as it grew quite big.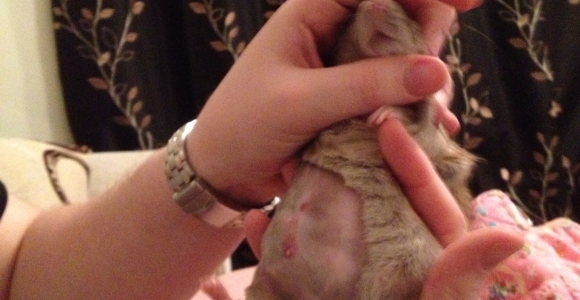 A smaller lump grew back a few days after it had been removed. This one didn't seem to bother her as much.
Hmmmmmmmm how do I get behind the door?? Christmas 2011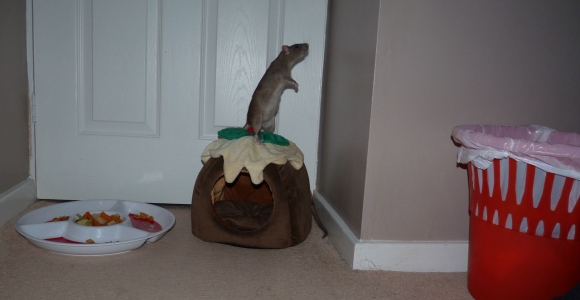 Browns 2nd Christmas with us, hiding in the pudding.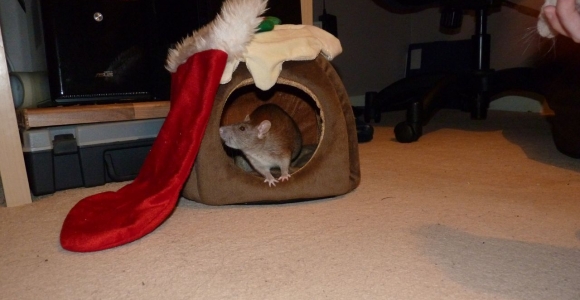 "I love cake I do"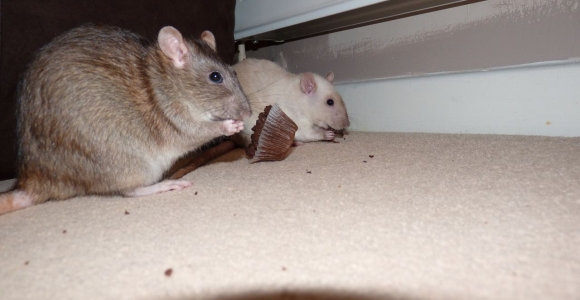 Brown loved her sisters very much, she loved to cuddle with the, all.
Brown giving Cocoa a love

After we lost her sister Smoothie, we needed some friends to keep Brown company. The new girls loved her to bits, they were like her babies. She taught them lots of things. I will always see Brownie in Bolt. She is a live wire and acts just the same.
Brown on her 2nd Birthday enjoying some more cake with her new sisters wondering what she's eating.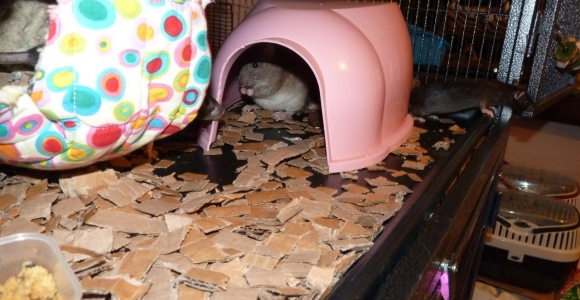 Have fun at rainbow bridge Brown Star, thanks for staying with us for so long. You were a little fighter at the end. You wont have anymore tumours to worry about, you will be fit and healthy again. Share out the yoggies we put in with you. I'm sure Cocoa has missed you lots. Tell all the other ratties we miss and love them all. I'm going to miss giving you your daily doses of poly aid. You were a lovely girl who we all loved to bits. Thank you for learning all the little ratties how to be as good as you were. They are missing you lots.
Our beautiful Brownie