DoP: 25.10.2011
DoB: 09.02.2011
Earlier, we said goodbye to our Smoothie. She was 2 years 10 days old.
Recently she had a lump removed, she chewed her stitches out and the wound became infected. We took her straight to the vets, the vet said she couldnt be re stitched as it was infected, so we were given some cream that we had to apply daily and antibiotics to get rid of the infection. After a week of being wrapped up in bandages the infection dissapeared and the wound healed up nicely. A few days after we finished her medicine, she had a stroke, so we put her on some steroids with baytril, she soon got better, we took her off her medicine then a few days later we found her asleep in her hammock. I'm so sorry we weren't with you Smooth
Smoothie was lively girl who was always into everything, just like her sisters. As soon as we walked into the room most days she would be out of the hammock as soon as she heard us.
Smoothie originally came to us with three other girls from Jenna at HKM Stud, to go with one of our older girls (Nibbles) to keep her company. We went to pick up two girls, and ended up bringing four home :)
We called her Smoothie because her furr was so soft & smooth and one of her sisters was named Ruffy, so Smoothie just seemed to sound right. Smoothie was 8 months old when she came home with us, she was a very pretty black eyed siameese girl.
Smoothie with her new sister nibbles tucking into some treats - Halloween 2011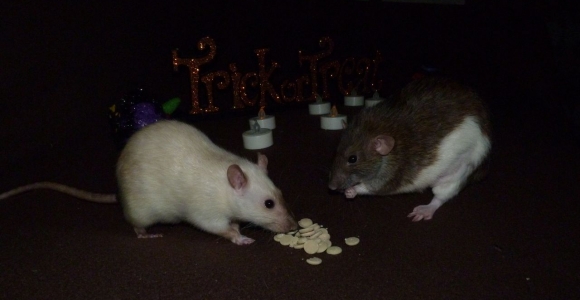 Smoothie enjoyed all different types of food, pasta, cereal, fruit.
Smooth tucking into her xmas dinner 2011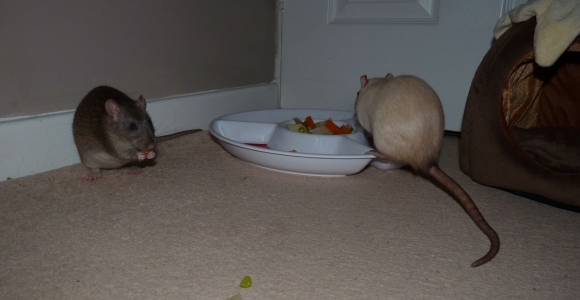 Smooth having some cake at Whiskers 1st birthday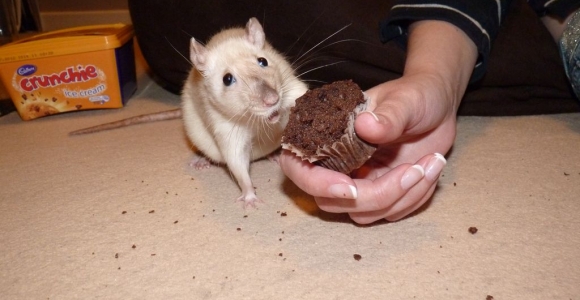 Smooth eating some halloween food (baby food)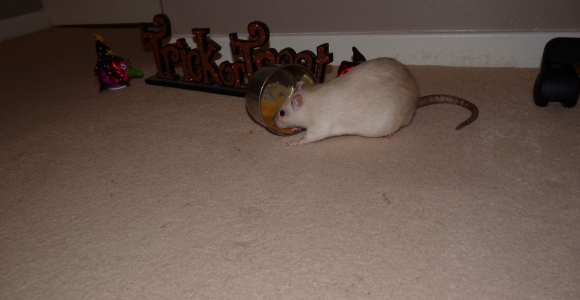 Smoothie loved her sisters very much, wherever the other girls were, Smoothie was always there with them.
Christams 2012 Smoothie with her sisters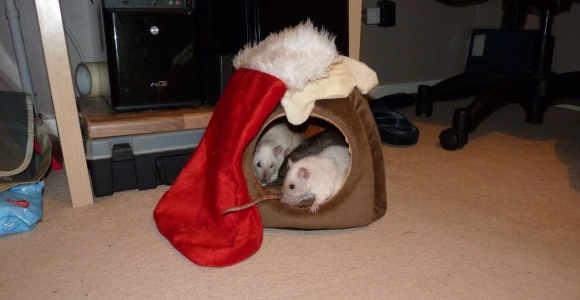 Smoothie loved to snooze in her hammock. Smoothie checking out her new xmas hammock, which her sisters have already called dibs on their spaces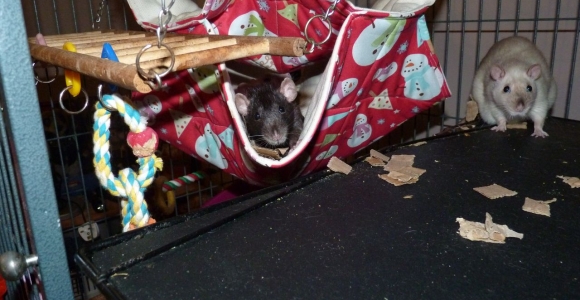 Smoothies sister Cocoa used to always like to get our attention by rattleing her eggs on the cage bars, Smoothie always used to be a great help at making more noise by helping her.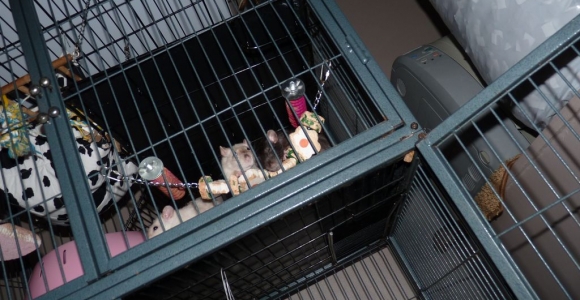 All wrapped up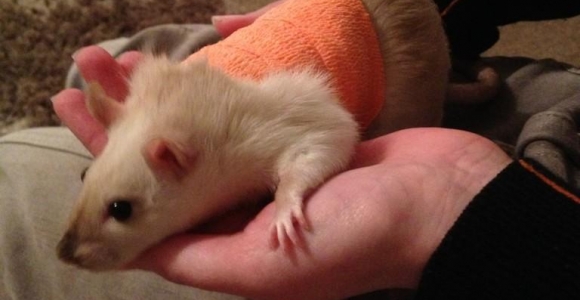 Slowly the infection cleared and it healed up nicely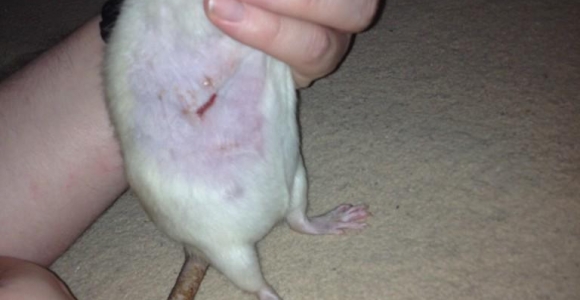 The new girls loved Smoothie, she was like a mum to them. Unfortunatly we dont have any pictures of them together.
Brownie is already missing you lots already, i think the young girls will keep her company though.
Have fun at rainbow bridge Smoothie. You were a lovely girl who we loved lots. Share out the yoggies we put in with you, theres two in there for you and a few other treats. Tell all the other ratties we miss them & love them lots. Me and daddy will miss seeing your beautiful face in the morning.
Our beautiful Smoothie girl with her sister (theyre now at rainbow bridge together)