DoP: 25.10.2011
DoB: 05.01.2011 - 18.12.2012
Cocoa, one of our girls had to be PTS today because of a massive tumour, which the vets couldn't do anything about. We only noticed it on Sunday, took her to the vets yesterday, and got booked in to have it removed today. It was to big and was attached to all her insides. She would of been 2 years old in 2 weeks and 4 days.
Cocoa originally came to us with three other girls from Jenna at HKM Stud, to go with one of our older girls (Nibbles) to keep her company. Cocoa was 10 months old and had already had her first litter. She gave birth to 12 lovely babies, 7 bucks and 5 does. When we first got the girls, they were live wires. They always seemed to be awake, no matter what time of day it was, they were awake.
Cocoa in the hammock, messing with the rope/ladder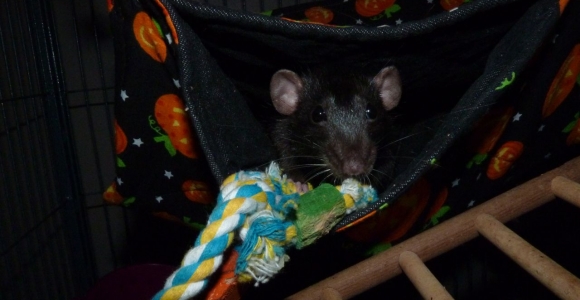 Cocoa always loved exploring new places, especially if she could find treats Cocoa caught in the act - Halloween 2011 trick or treat??
Unfortunatly we only spent one Christmas with Cocoa Why arent there any treats in here?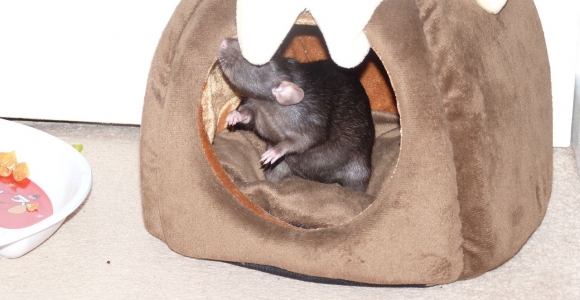 Cocoas favourite past time was getting peoples attention, probably because she always wanted to be out of the cage - she was a person rat. Her best way to get your attention was by spinning her wooden flowers, making the most noise she could.
Cocoa & sisters getting your attention.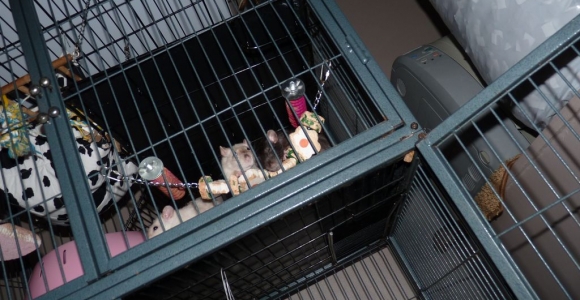 Another way Cocoa used to get attention was by posting cardboard. She did this at night time though. The floor would be clear, when i got up in the morning it would be full of cardboard. I knew it was Cocoa because sometimes she would do it during the day, most of the time it would be after i had swept the floor. Cocoa loved her sisters very much, you would always see her with one of them.
Cocoa & Brownie
Whenever it was someones birthday, Cocoa would never miss out on cake Nibbles 2nd birthday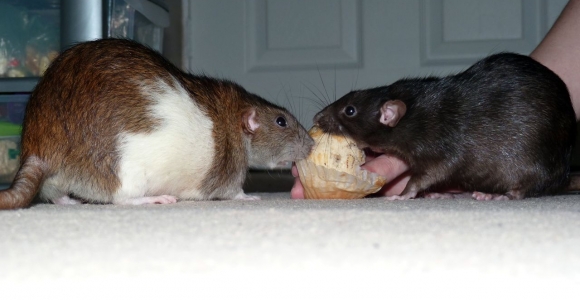 Whiskers 1st Birthday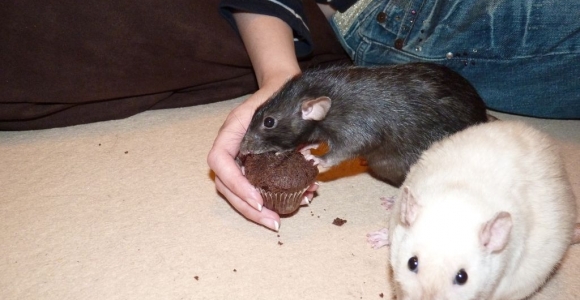 A couple of weeks ago I bought some new Christmas hammocks Cocoa checking it out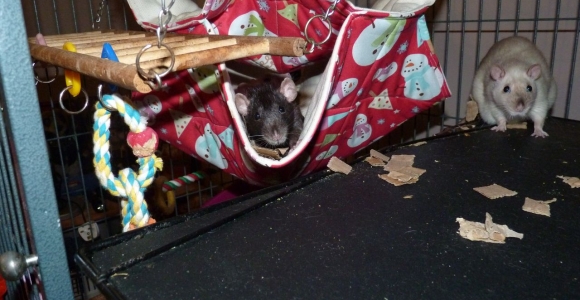 One of her nick names used to be Armstrong, as she used to stretch her arm outside the cage to reach a treat. Have fun at rainbow bridge Cocoa, you were a lovely girl, who i adored. Share out all the milk drops i put in. I put lots of treats in there just for you. You are a healthy girl again now, with no more horrible tumours to deal with. I'm sorry we couldn't make you better. :o( Me & daddy love you and will miss you lots Cocoa just like your cage mates. Thanks for being you Cocoa, we will always remember you as our little Armstrong.